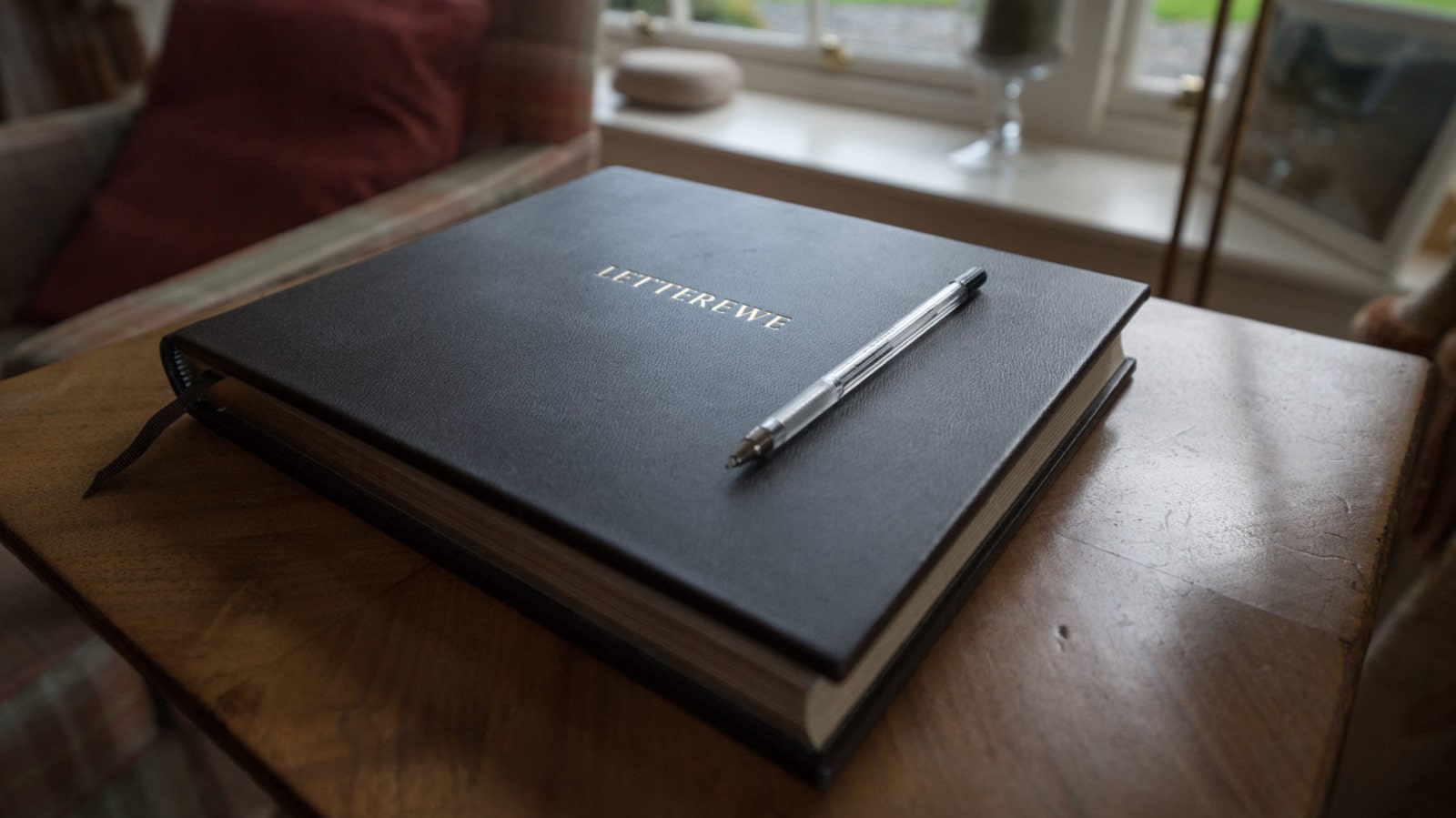 We love to hear your feedback
Please help us by telling us what you loved, or what you thought might be improved, about our lodges in the hills.

It is important for us to hear your views after your stay at one of our three self-catering homes on Letterewe. Please take a moment to give us some feedback in order to allow us to offer the best possible experience here in Wester Ross. Below you will see reviews from some of our previous guests – whether fishermen, climbers, families or newly-married couples.
We value your opinion
FEEDBACK
Please contact us with any questions.
CONTACT INFO
Please feel free to call or email Barbara MacDonald, our estate manager, if you would like more information on any of the lodges, and to check availability or make special requests.
Contact address: Letterewe, Loch Maree, Achnasheen, Ross-shire IV22 2HH, Scotland
Phone: +44 1445 760 207
Email: barbara@letterewe-estate.com
Read what our guests say about us
An absolutely amazing week from the insane fishing and stupendous days stalking. Paul is an amazing skilled and knowledgeable man. Also the swimming in the loch every day was very refreshing and it was even better to see Mia swimming up to you. (even tho you might scratched) and I can't forget Jack running up to see you. An all round and brilliant week (also the amazing views are unlike any other).
Howorth party
August/September 2020
A fantastic week. From beginning to end it's been epic! I will miss Mia the most. Please give her lots of cuddles.
Howorth party
August/September 2020
Paul is my hero – picturesque place. Thank you so much for the tie with it. Walking every day was so relaxing and swimming in the loch was invigorating to say the least. Beautiful house !
Howorth party
August/September 2020
Phenomenal week – stags, brown trout, golf, snooker in a magnificent place. Thank you.
Howorth party
August/September 2020
An incredible week. Letterewe is a truly special place full of very special people. A huge thank you to Paul for his patience on the hill. I will certainly remember it for a long time to come. Many thanks.
Howorth party
August/September 2020
Most amazing place to stay. Had a fantastic time stalking with 'petrol' Paul. Even swimming in the loch was great (although slightly chilly). Thanks to everyone who made it so memorable!
Howorth party
August/September 2020
The most wonderful and beautiful place, an incredibly memorable week. Lots of painting. Thank you.
Howorth party
August/September 2020
All I can say is, unique, extraordinary, inspiring !!! Thank you so much
Howorth party
August/September 2020
Lots of great times here in Letterewe. Fishing, walking, snooker and even swimming in the Loch! Thank you so much.
Howorth party
August/September 2020
Neither of us have been to this part of Scotland before – the expectation was rain and extensive midges – we got the midges spot on but thankfully failed miserably on the weather forecast – shorts and t-shirts all week and not a drop of rain - fantastic house, great facilities, excellent kitchen and Tina and Nigel are brilliant – hard working and totally customer focussed. Couldn't have asked for more. Both dogs are knackered along with our Fitbits that have achieved abnormal heights. We can totally see why the family loves this place and wants others to enjoy it too – our views of Scotland have changed completely for the better so thank you!
Camilla and Fi
11 – 18th August 2020
Letterewe has succeeded in becoming one of the definite revised locations whether it be the fishing, walking or swimming it has been a truly special place.
Barry
11 – 18th August 2020
What a lovely beautiful place and house. Its luxury in the total isolation which is hard to find today in our world of busy lives. The walking, swimming and fishing have all been enjoyed and I really hope to see and visit this fabulous corner of the world again.
Tina and her team have been great and have looked after us so well.
Ness
11 – 18th August 2020
We have been blessed by sunshine and loch swimming in Loch Maree and the sea. A truly memorable holiday. Thank you all
A lovely place with amazing scenery and people who care for this house.
Poppy
11 – 18th August 2020
The people here are so kind. Especially Tina who knows a lot of first aid and she helped me when I cut my knee.
Heidi
11 – 18th August 2020
A special place – a true hideaway from the different world. We all now like it. A sense of timeless beauty.
John & Sue
11 – 18th August 2020
It's hard to follow the wonderful water colour. Simply put, we had a priceless lockdown holiday in a wild and beautiful setting. Thanks to all!
McCahills & friends
July 30, 2020
What a wonderful holiday in this strange time. Thank you all for our stay in this beautiful lodge and scenery. Will miss my 9am loch dive!
McCahills & friends
July 30, 2020
What a memorable week of swimming, walking, bone rooms and boating! We loved every minute despite the weather wobbles and the midges. It was a very special evening when the deer came down for the evening. Thanks to everyone who made this such a special time in this magical place.
McCahills & friends
July 30, 2020
Thank you for an action packed highland adventure! We had a great lockdown getaway! The bone room is extraordinary. PS: sorry for catching all the fish in the loch. Special thanks to Paul and PJ.
McCahills & friends
July 30, 2020
A wonderful week at this amazing place! Three first stags, great company and the incredible scenery make you days that will always be remembered. Thanks to the staff and F, F & F for making our stay so memorable!
Victor van Dooren
6 - 11 October 2019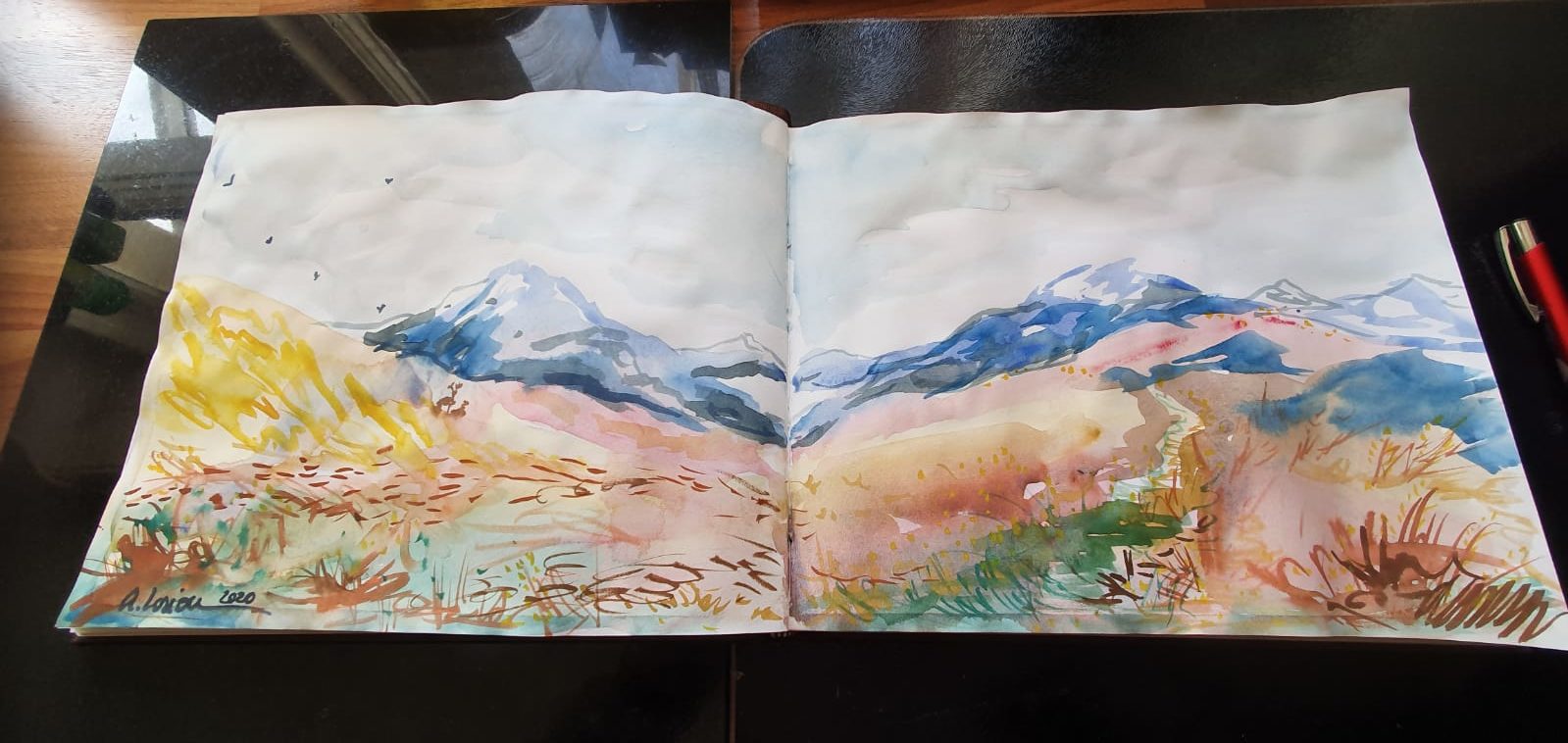 Een week geleden stapten we hier binnen de lodge. Van de ene verbazing in de andere. Een heerlijk huis. Een dag later het "veld" in. Prachtig, weids, wild, fenomenaal! En dan nog de gastvrijheid hier. Dingen die beklijven! Dank.
Manuela and Han
29 September - 6 October 2019
Om het samen te vatten in een woord, dan zeg ik "overweldigend". Een prachtige plek, een bijzonder huis en een schitterende natuur. De gastvrijheid voelde je van alle kanten. Wij hebben ons zeer gelukkig gevoeld. Zullen het nog lang in gedachten houden.
Hein and Biender Dusseldorp
29 September - 6 October 2019
Wat hebben we een prachtige en bijzondere week gehad hier op Letterewe. Fantastisch om in de hooglanden te kunnen wandelen, jagen en vissen. Wat een geweldig team rondom het huis en de jachtbegeleiding. Een prachtig hert geschoten, veel gezelligheid met deze leuke groep mensen en een glaasje whisky op zijn tijd! Een week om nooit te vergeten.
Rommy and Jernot Klatte
29 September - 6 October 2019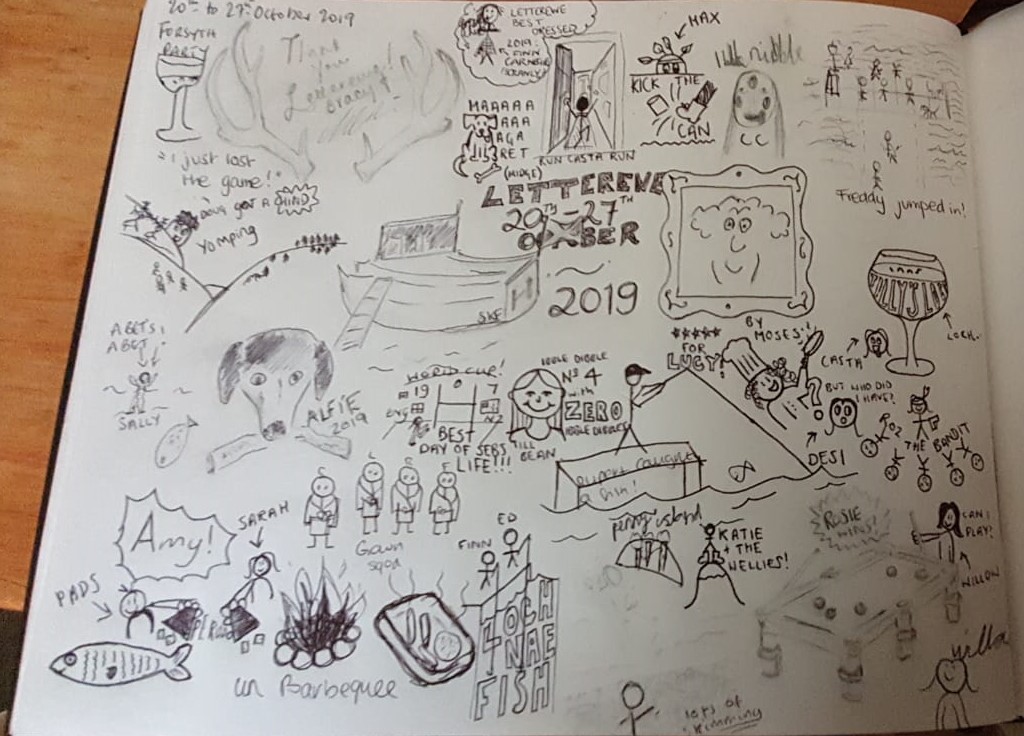 Ultiem gelukkig. Soms heb je van deze momenten. Hier op "Letterewe" heb je deze momenten verschillende keren. Je kunt het anderen eigenlijk niet uitleggen. Je moet het zelf beleven. Dank lieve Truus & Melle. Heel veel dank. Dikke kus,
Bart & Joan
29 September - 6 October 2019
Via onze vrienden Joan en Bart hebben wij mogen genieten van jullie ongelofelijk mooie plek Letterewe. Van het huis, de prachtige omgeving en de vriendelijkheid van alle mensen die hier de boel runnen. Fantastisch om de bergen tot de bovenste toppen te beklimmen en de spanning mee te maken als er geschoten mag worden op de stag; het wachten wanneer je het sein krijgt om te komen, het ritueel mee te maken van "bloed op de wangen"en het proosten met de whisky. Een ervaring die wij nooit zullen vergeten! En dan terug komen in een warm sfeervol huis, waar alles al klaar staat om de haard aan te doen en te borrelen, te koken en de verhalen van de dag door te nemen. We hopen hier ooit nog een keer terug te mogen komen om deze unieke ervaring en belevenis wederom te ervaren!
Hans and Carolien
25 September - 6 October 2019
Thank you Letterewe for an amazing week, the estate is fantastic and the whole family have thoroughly enjoyed themselves. Jumping into the loch being the kids highlight. Thanks to all the staff for being so helpful and cheerful, an amazing team working in an incredible place. We hope to visit again soon, many thanks,
Family Petrie, Mackenzie and Stewart
4-11 August 2019
A fantastic place to celebrate my final Munro, we all had a fantastic time.
What a wonderful week with family & friends in a place I am lucky to have so many connections with. After 27 years visiting Carnmore, & several holidays at Ardlair, it was a huge treat to spend a week at Letterewe Lodge. Many thanks to Alicia and Melle for making it possible and to the brilliant team at Letterewe, especially Tina & Nigel for all their help. The weather could have been kinder, but these hills have their own special magic when the burns are pouring into Maree, and wet walkers & fishermen return home to great company & a welcoming fire. Highlights of an unforgettable week – a great night of craic & laughter with Barbara & Arthur; novice fisherman Matt catching the biggest fish of the week; and finally experiencing incredible Garbhaig!
Auslan & family/friends
July 2019
The day of our wedding (June 21) was beautiful. Everything, the place, the people, the nature was more than perfect. The stunning surroundings and the gorgeous lodge. We (Lillian and Henk) konden alleen maar dromen van zo'n mooie plek op aarde, alles zat ook mee. We gaan er alles aan doen om hier terug te komen met onze families (misschien Kerst). From the bottom of our hearts, bedankt.
Lillian & Henk
18-23 June 2019
There are no words to describe this perfection: kindness, loving, home, sweet, welcoming, beauty, fairy-tale, best food ever. Always a place in our hearts and memories. Love to you all.
A big thank you, Tina, Nigel, Paula, Rory, Paul and special thanks to our cook Greig, Alex & lovely Paula. Barbara for being there for us helping our way to find the right people. This time and days have brought our families together. Magnificent, magical, Smiles + happy tears and good stories and fun.
Hoed family
18-23 June 2019
Dear Letterewe team, You have been so good to all of us!
Hendrikse family
18-23 June 2019
This is the 2nd time I've catered for a week at Letterewe Lodge and it has been as enjoyable as ever! This time a wedding party of 22 people. I have a happy reputation of bringing a "boat load" of equipment, but for myself it allows me to push the boat out and cook fresh quality food at the lodge for all to experience an abundance of Scottish produce. The Letterewe permanent staff are exceptional to make the estate feel like home.
Greig Wilding - www.thehighlandkitchen.com
18-23 June 2019
A second working experience here at Letterewe. What a joy it has been to work alongside Greig and his team. This wedding has been a magical 4 days, the families have been awesome and Greig's food sublime. The perfect venue for any special "life event", but only if Greig cooks !
Rockstar Chef in the Highlands
18-23 June 2019
What a wonderful and amazing week at Letterewe and nothing a disappointment. Not even the mixed weather fortunes can alter the spectacular landscape and beautiful lodge. Thanks to Nigel, Tina, Paul and Paula for all their help and making us feel so welcome. It has been a birthday to remember. We will be back. Thank you. Thank you.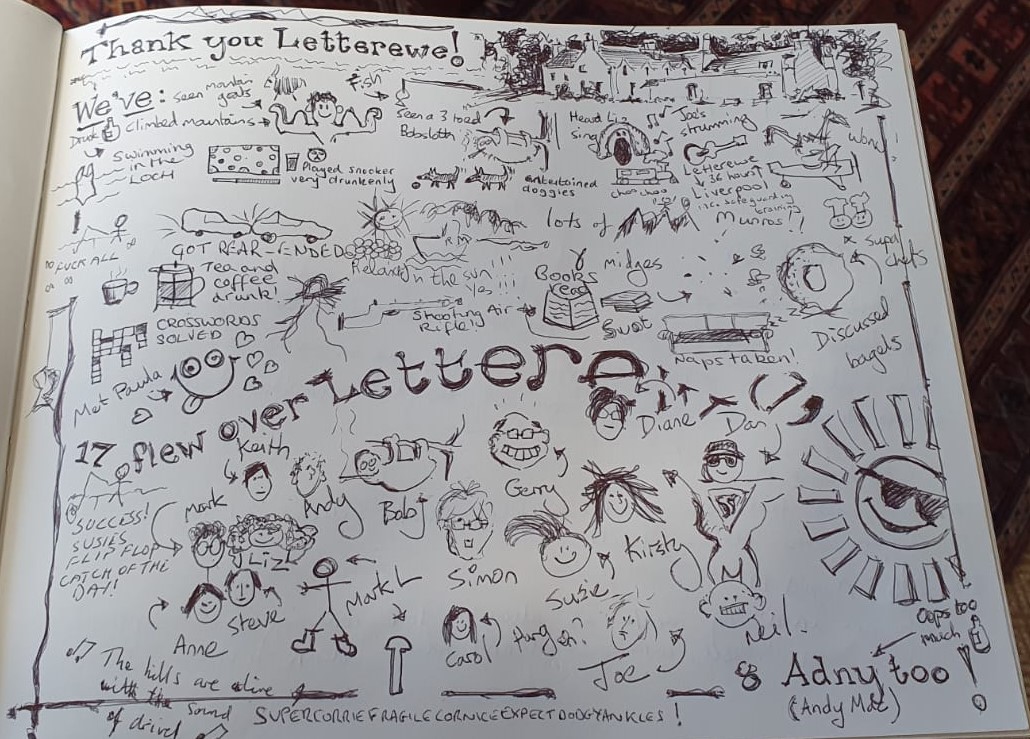 Thank you to the wonderful team at Letterewe for a most excellent 4 days. Everything is so stunning, the house, the setting, the scenery and of course the location. We have done most things in moderation with the exception of talking, eating, drinking and of course walking – the horns of Alligin will go down in folklore for so many reasons. Thank you all so much – hopefully we will be back again soon.
Dear Team of Letterewe, Too many superlatives for the wonderful house and estate of Letterewe – what a setting, what a history, what a wilderness ! As a group of 6 Dutch business people, their natural leadership coach and myself (mountain guide), Letterewe fitted everything we needed for our 4 day stay in what can only be described as one of the most unique settings/accommodations in Scotland. All the staff, each and every one of you, were just outstanding from the start of our visit and made us all exceedingly welcome and comfortable. Many thanks Tina, Nigel, Rory and Paula for going the extra ride and ensuring that our stay at Letterewe was a truly memorable one – to be treasured for the rest of our lives.
Wonderful place! Accommodation is perfect, the staff have been superbly friendly and professional and above all very helpful. And the most exceptional landscape in Scotland. Haste me back!!
Just fabulous! This has been an amazing place to stay. Beautiful surroundings, amazing views. So much to see and do. Walking and running has been great fun – don't think I'd ever feel ready to leave, but alas we must go home! Staff have all been so friendly and nothing too much. Thank you so much for such a wonderful time. Some wonderful memories.
Haverly family
August 2019
Thank you for looking after us the other week. We had a great time as always and it was time to go home again when we just started to relax! Andrew, Rory and Paula were super especially on NY's eve helping out with the water situation etc.
Hannah & Jonny
December 2018
Een geweldig prachtige ervaring vol gezelligheid en plezier. Graag wil ik jullie bedanken voor het beschikbaar maken van dit prachtige landgoed. In het donker opgehaald worden door een prachtig scheepje en dan aankomen op 'Letterewe' is werkelijk adembenemend, zeker als je geen idee hebt waar de reis zal eindigen. De volgende dag genoten van een prachtige wandeltocht naar "Carnmore' met onderweg veel natuur en prachtige vergezichten. De karakteristieke verblijven, de omringende faciliteiten, de gestrektheid van de hooglanden, de historie van de jacht, de aandacht voor detail met waardering voor eenvoud en originaliteit,… het is werkelijk prachtig in- en om "Letterewe". Vanwege mijn werk bezoek ik veel prachtige locaties, maar "The Last Great Wilderness" is een absolute favoriet. Ik ben echt ontzettend onder de indruk van 'Letterewe Estate' met fascinerende Schotse historie en onaangetaste natuur eromheen.
Thank your for the truly amazing days! Letterewe is a beautiful and special place with amazing people! My friends and I felt very welcome and enjoyed every minute of your hospitality and efforts taken. Thank you very much !!!
Steven & friends
November 2018
Dear Barbara, thank you for all your help and for welcoming us to Letterewe last week. It was such a magical experience and you were absolutely right, we wouldn't have stayed anywhere but Carnnore. We're delighted with the photos and can't wait to show them to you.
Holland & Holland
October 2018
What an amazing week! We have had the most wonderful time. Thank you so much for your hospitality and making us feel so welcome. It really felt like we were staying with family. We would love to return for another week. We will keep you posted on our plans.
Had, like always, a mighty fabulous time! Hope the rest of the season is as good as our time ! Love XO
The Gows, Hills, Tompkins, Phillips, Gale + Ed + Ed + James
August 2018
We want to thank you for allowing all of us to enjoy this most magical place in the world. The lodge is so lovely, and all the little details, flowers in the rooms. We are a very mixed group – 3 from Singapore, 1 from Melbourne, Australia, one from New Zealand (originally from Holland) and 8 from East Riding of Yorkshire, England. And each and everyone of us have thoroughly enjoyed our stay. Special special thanks to Barbara for all the information of her patient answering of all our queries, to Andrew and Rory, Mark and Melanie for all their help in making the stay extra special. I hope to return sometime soon.
Mahen and family
July 2018
Ik wou u ook bedanken voor de fantastische tijd. Wij hebben ontzettend genoten. Dit huis is niet te beschrijven zo mooi. Het personeel heeft erg goed voor ons gezorgd. Het was een ervaring die ik niet had willen missen. Ik hoop ooit nog eens de kans te krijgen om terug te komen.
Marja Plessius, New Zealand, ex Amsterdam
July 2018
So beautiful. What an experience. The most amazing place, looked after so well. The staff were fabulous! Hope to return one day. Thank you all.
What a beautiful house, views and people. Campbell & Claire were so welcoming, nothing was too much trouble. Thank you so much
Helen, Scott, Sarah, David, Pascal & Jules
May 2018
We have had such an amazing time in this beautiful surrounding and house. We felt very well cared for. It was in the little details that we felt welcome like the bonfire with marsmellows, bathing products from the area, fresh flowers in each room and the guidance from William to the little cabin up in the mountains. A place that we would love to revisit. With love from The Netherlands.
Kiki, Mana, Floor, Olga, Fleur, Ariane, Mary
April 2018
We have just had the most spectacular couple of days in Letterewe. Thank you so much for allowing us to come and share in this little oasis of happiness. The crisp air and views from the top of the hills were more than we could have imagined and we have memories that will last for a long time. The lodge is as welcoming, amazing and comfortable as we could have imagined and we feel extremely well looked after. Thank you again for some halcyon days. We will look forward to seeing you again one day. Until then.
Most places you visit, you are the one who does the traveling. But there are those few places, so special and so unique, that they actually transport you ..... to another time. Another world. A completely different state of mind. Letterewe is one of these most rare destinations. A place where the rugged and the untamed are paired with refined comforts. And while it might feel like a new experience, there is something strangely familiar about it. It feels ancestral. To go up the hill. To stalk. And to come back down to enjoy a fine single malt or two, a hearty game meal, warm by the fire ... mabye another whiskey perhaps. It's experience I think deep down we all crave, yet few have had the good fortune to have realized it.
Thank you for a magical week at Letterewe. Plenty of "Hill" hikes, a very special walk to Carnmore. Loving the new Rose Marie. Fantastic family fun. Memories that will last a lifetime. Thank you to team Letterewe for making our stay so welcoming and comfortable….. we quite simply love this place. A unique wilderness and a feeling that Letterewe is in great hands. Thank you for letting the Hill family share in this magic place.
Fantastic days in this marvellous house with its outstanding surroundings. Two great walks, one to Loch Garbhaig and one to Fionn Loch. Unforgettable memory.
Many many thanks for looking after us so wonderfully at Letterewe during our wedding week. From our wedding ceremony on Gruinard Beach, to the hill walks, boat trips & kayaking on the loch, it has all been magical. We could not have dreamed for a more perfect place to celebrate. We already want to come back!
Cas, Mike And all the family
April 2017
There's nothing quite like an escape to the Scottish Highlands. It's eerie quiet, sobering mists and savage beauty routinely manifest themselves in daydreams across London's Square mile.And if there were to be a particular spot in Scotland, a particular Loch, it would have to be Letterewe Estate. This great sporting estate, stretches over 17,500 hectares of breath-taking mountains and lochs, four deer forests, and remains uninterrupted by roads or any trappings of modern life. Home to pine martens, golden eagles, wild goats and some 2,000 red deer, Letterewe is known as the 'last great wilderness of Scotland'.
Rosalyn Wikeley
Country and Town House - April 2017
Your Scottish Country Sports Adventure - The Scottish Highlands are home to the red deer living in their natural habitat among the wild, rugged hills and mountains. Red deer are the largest wild deer in the UK and one of our native species.
Linda Mellor
Eagle Review - March 2017
Housekeeping very good. Nice stalker (as well as his older colleague).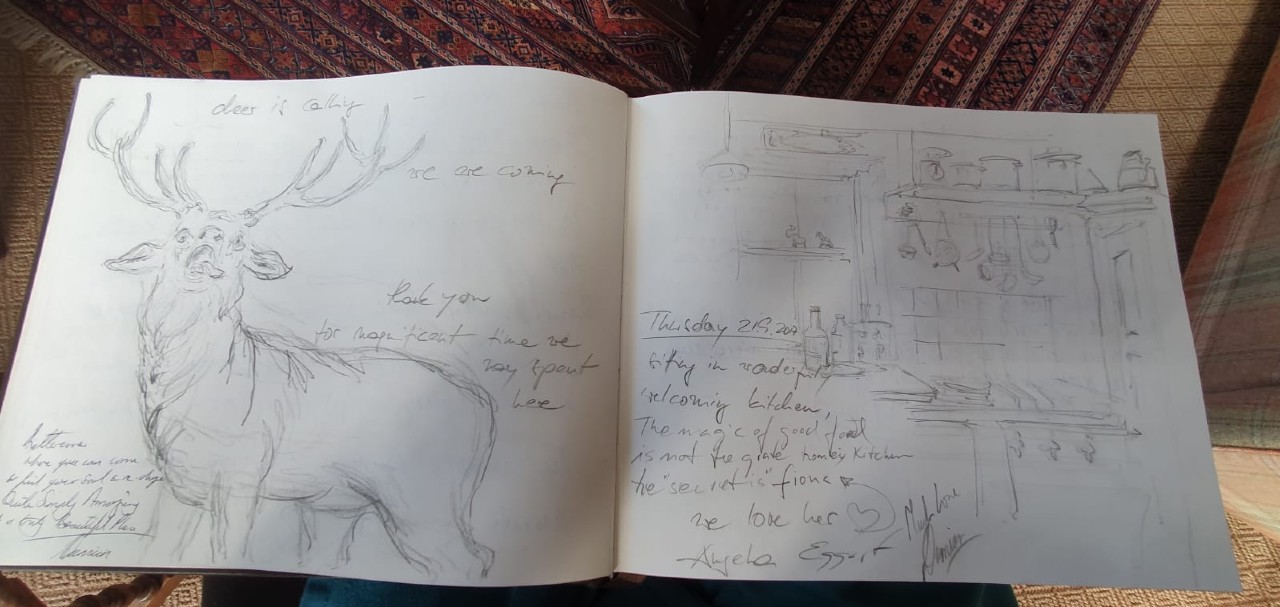 Fantastic Estate, what an experience. The boat-ride, the staff and the stalking all made for a truly magical experience.
We had a wonderful visit to Letterewe with my family. ``a real breath of fresh air!``
Do you go to the same estate each year? "I do. The estate is Letterewe, which is on the further side of Loch Maree. You can still only get to the house by boat. It has an old 1940s Clyde Police launch that chugs backwards and forwards and that is how you get across.
A.A. Gill
Shooting Gazette - July 2016